Products
Options/Features
Technical Spec
Dimensional Spec
MD SERIES
-
Description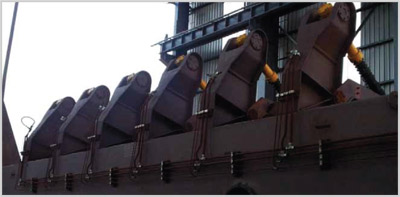 MASCOT MD series hydraulic motors are designed for high power and high speed applications. Most of the belt conveyors are driven by MD series motors. In addition, these motors are most suited for use in Feeder Breaker, Ball Mills and Bowl Mills. Optionally, a brake can be fitted in front end of the motor.
The motor displacements available range from 12 lit/rev. to 15 lit/rev. They aim to provide a wide variety of precise hydraulic motor and pump combinations. These motors can take heavy shock loads due to the incorporation of a robust front bearing arrangement.
OPTIONS

Customised shaft.

Integral multi plate disc brake
(Static / Parking).

High speed versions.

Double shaft.

Through hole shaft of various sizes.

Custom finish.

Deep water submersible.

Non magnetic material.

Dual Displacement.

Shrink disc coupling

Shaft or Flange mounting

FEATURES

Long Life

High Mechanical Efficiency

Constant torque output

Smooth low speed performance <1rpm

Resistance to thermal shock

Double shaft sealing

Shock Resistance

Low noise

Super low noise.

Corrosion resistant material.
MD SERIES -
Technical Specification
HYDRAULIC MOTOR -
MASCOT
click on the image to enlarge
MOTOR FRAME SIZE

SPECIFICATION

DISP(*) PER REV

TORQUE
( THEORETICAL )

TORQUE MAX

SPEED RATED

SPEED MAX **

PRESSURE RATED

METRIC

CM3 /REV

NM/BAR

NM

RPM

RPM

BAR

12760

200

66000

75

100

13540

215

70950

75

110

15160

241

79530

70

100
**
High speed version upon request.
*
Any other displacement upon request.
MD SERIES -
Dimensional Specification
click on the image to enlarge
| | | |
| --- | --- | --- |
| | | |
| Motor with Shrink Disc Coupling | | Hallow Shaft Motor with Female Splines |

Dimensions:
Motors with shrink disc coupling
MOTOR TYPE

A
(MM)

B
(MM)

DW
(MM)

E
(MM)

F
(MM)

G
(MM)

WEIGHT
(KG)

MAIN CONNEC
(A1,A2,C1,C2)

MAIN CONNEC
(D1,D2)

HM 12.0

650

994
160
321
520
962
663

SAE 1¼ "

BSP ¾ "

HM 6.0

650

994
160
321
520
962
697

SAE 1¼ "

BSP ¾ "

HM 6.5

650

1062
180
390
520
1032
724

SAE 1¼ "

BSP ¾ "
Hallow shaft motors with female splines
MOTOR TYPE

A
(MM)

B
(MM)

C
(MM)

DW
(MM)

E
(MM)

F
(MM)

WEIGHT
(KG)

MAIN CONNEC
(A1,A2,C1,C2)

DRAIN CONNEC
(D1,D2)

HM 12.0

650

933

N150x5x30x28x9H

260

520

893

627

SAE 1¼ "

BSP ¾ "

HM 13.5

650

933

N150x5x30x28x9H

260

520

893

653

SAE 1¼ "

BSP ¾ "

HM 15.0

650

990

N200x5x30x38x9H

305

520

950

681

SAE 1¼ "

BSP ¾ "
Brake : Static / Parking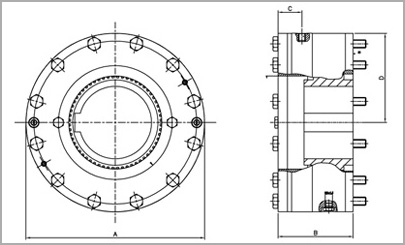 Motor Type

A
(mm)

B
(mm)

C
(mm)

D
(mm)

Brake release pressure (bar)

Brake Torque Max (Nm)

HM 12-15

480

195

62

260

20-30 BAR

60000
*
Technical dimensions are subject to change without prior notice