Products
Options/Features
Technical Spec
Dimensional Spec
HD SERIES -
Description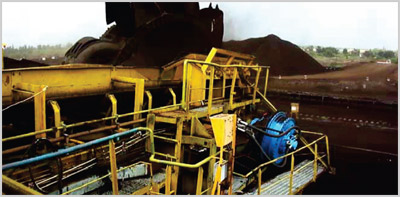 MASCOT HD Series hydraulic motors aim to provide high torque for low speed applications. On specific request, the motors can also be custom-made to suit high speed requirements. These motors incorporate the "high-flow" distribution system. The HD Series motors are always torque arm mounted, making them the ideal choice for applications such as Bucket Wheel Drive, Apron Feeder, Kiln Drive etc., to eliminate misalignment.
The motors run with high efficiency and the power output from the motor is as high as 1000 KW. The Mascot HD Series motors ensure trouble free operation even in dusty environmental conditions.
OPTIONS

Customised shaft.

Integral multi plate disc brake
(Static / Parking).

High speed versions.

Double shaft.

Through hole shaft of various sizes.

Custom finish.

Deep water submersible.

Non magnetic material.

Dual Displacement.

Shrink disc coupling

Shaft or Flange Mounting

FEATURES

Long Life

High Mechanical Efficiency

Constant torque output

Smooth low speed performance <1rpm

Resistance to thermal shock

Double shaft sealing

Shock Resistance

Low noise

Super Low noise

Corrosion Resistant Material
HD SERIES -
Technical Specification
HYDRAULIC MOTOR -
MASCOT
click on the image to enlarge
MOTOR FRAME SIZE

SPECIFICATION

DISP(*) PER REV

TORQUE
( THEORETICAL )

TORQUE MAX

SPEED RATED

SPEED MAX **

PRESSURE RATED

METRIC

CM3 /REV

NM/BAR

NM

RPM

RPM

BAR
**

High speed version upon request.


*

Any other displacement upon request
HD SERIES -
Dimensional Specification
Dimensions: Motors with Shrink Disc Coupling
click on the image to enlarge
MOTOR TYPE

A
(MM)

B
(MM)

DW
(MM)

E
(MM)

F
(MM)

G
(MM)

WEIGHT
(KG)

MAIN CONNEC.
(A1,A2,C1,C2)

DRAIN CONNEC.
(D1,D2)
*
Technical Dimensions are subjected to change without prior notice.